Tax season can be stressful for any Canadian who is worried about coming up with any money they may owe the government. But attempting to conceal income or – much more commonly – waiting until the last minute and making costly mistakes can make things worse. Most Canadians pay their taxes in full and on time. But it is easy enough to make mistakes. Here are some of the most common errors and penalties.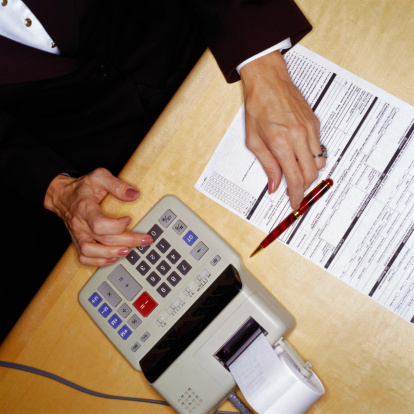 Getting an early jump on your taxes can help you avoid mistakes made in haste.
Late Filing and Repeat Failure to File
Canadians who file taxes after the deadline are penalized five percent of what they owe, plus one percent per month in interest. If no tax is owed, however, there is no penalty.
The late filing penalty, however, is relatively minor compared to the much more aggressive penalty for repeated failure to submit. If a taxpayer forgets to submit two T-slips in any four-year period, they may be hit with a 20 percent penalty. This is not 20 percent of the tax bill, but 20 percent of the entire amount of the earnings that were not submitted. This penalty applies even if the intent wasn't to avoid taxes.
Failure to Claim Eligible Medical Expenses
When it comes to medical deductions, according to one expert, many Canadians simply don't know what they may and may not deduct. Taxpayers can write off everything from batteries for hearing aids to widening a door to make enough room for a wheelchair. If you missed some of these deductions the first time around, don't worry! The Canada Revenue Agency (CRA) allows most people to go back for up to 10 years on most federal provisions and deduct items that they missed.
Investment Income
Nearly 60 percent of Canadians aren't sure how to handle investment income. From capital gains taxes to charitable donations, Canadians can find help they need to correctly file investment income with basic tax software. Investment tax law changes frequently and many of the most commonly reported mistakes are made by people who file on their own.
A Second Chance for Those Who Made Errors
If you have made in error in reporting, the Canada Revenue Agency's Voluntary Disclosure Program gives Canadians a second chance to re-submit previously undisclosed income. Any taxpayer can participate, including businesses and corporations. All taxpayers will receive a letter of approval after notifying the CRA about any details that had been previously omitted.
Communicate with the CRA if you foresee a problem paying taxes. They will work with you to establish a plan that accommodates your capability to pay. Don't, however, attempt to conceal income or procrastinate, which can lead to costly errors.
Andrew Lisa is a freelance business writer who covers personal finance and taxes. He also profiles content sites for other writers such as Mediashower.com.